Our History
Established in the year 2007, BTY LOGISTICS INTERNATIONAL(NIGERIA) is a privately owned Nigerian Freight Forwarding and International Logistics services company, based in the city of Lagos and is a member of WCAPN, FIATA and CRFFN and certified by the Nigeria Civil Aviation Authority (NCAA).
At BTY we value our clients and believe that relationships should be for long term. Hence, we invest in relationships with our clients. We develop precisely tailored products and services to meet their individual needs. One phrase above all else summarizes our secret: "Delivering Successful Service".
Whilst others may talk about success, BTY delivers it to all our clientele; they know we are dependable, punctual and state of the art. To reach the highest standards, we depend on our people, their welfare, training and expertise. We foster strong ethical values and a team spirit that rewards commitment, loyalty and initiative. The foundations for developing our people are securely anchored in health and safety policies and respect for the environment, which in turn ensures our commitment to excellence, accountability, honesty and transparency.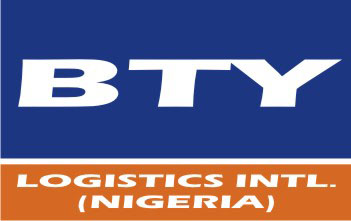 MISSION STATEMENT
CEO - E.A. NELSON
Our mission statement is to provide our customers with the best service possible in order that they can service their customers efficiently and also grow and develop their business profitably.
VISION STATEMENT
CEO - E.A. NELSON
BTY LOGISTICS has two prime aims, one to our valued customers and the other towards our people, without which we would not be as successful as we are today. Our aims are reflected in our vision as follows:
"Soar to be the preferred service provider and employer for logistics solutions worldwide"